It has been only one month living in West Virginia and I can't believe how much wildlife I have encountered. While working in the Monongahela National Forest, one thing that I have enjoyed the most has been the amount of diversity I have seen in the mammals, birds, amphibians, insects, and fungi. Growing up I have always been interested in all different types of wildlife, but being in the Sonoran Desert of Arizona, the diversity is really different than in the Mon Forest. While being here, I have been very excited to "geek out" about all the wildlife that I have never seen before.
To start, some of the larger wildlife I have seen are bears and grouse. While helping with a highway trash pick-up day, Katie and I saw two black bears cross the road. Unfortunately, it was so fast that I was not able to take a picture of them, but it was still exciting to see my first wild bear. It is also cool to have seen the black bear in West Virginia because it is the West Virginia state animal. Another interesting animal I saw was a Ruffed Grouse, Bonasa umbellus. The grouse is interesting because it is in the same family as the chicken and even looks kind of like a small chicken at first glance.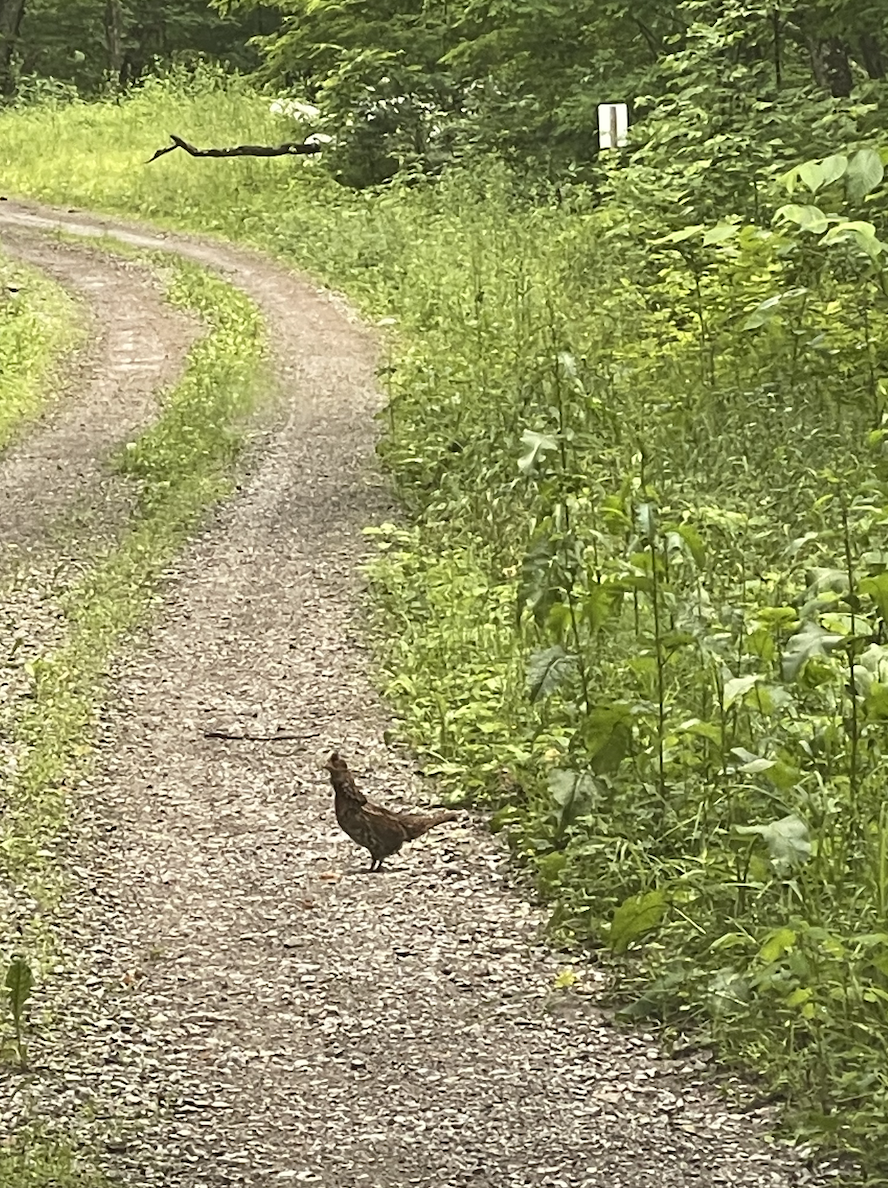 The amphibians that have caught my attention are the salamanders and newts. I have been lucky enough to have the opportunity to help with salamander surveys. This has allowed me to see a handful of different species that range in size and color. Some species include the Northern Dusky, Desmognathus fuscus; the Northern Slimy Salamander, Plethodon glutinosus; and the Northern Red Salamander, Pseudotriton ruber. I have seen the Eastern Newt, Notophthalmus viridescens, a couple of times. These little guys are cool because they spend the first three years of their lives as the red eft stage (pictured below) roaming around on land and then the rest of their lives in water for their adult stage with a completely different coloration of a green dorsal and yellow stomach. They are also the only species of newt that we have in the Monongahela!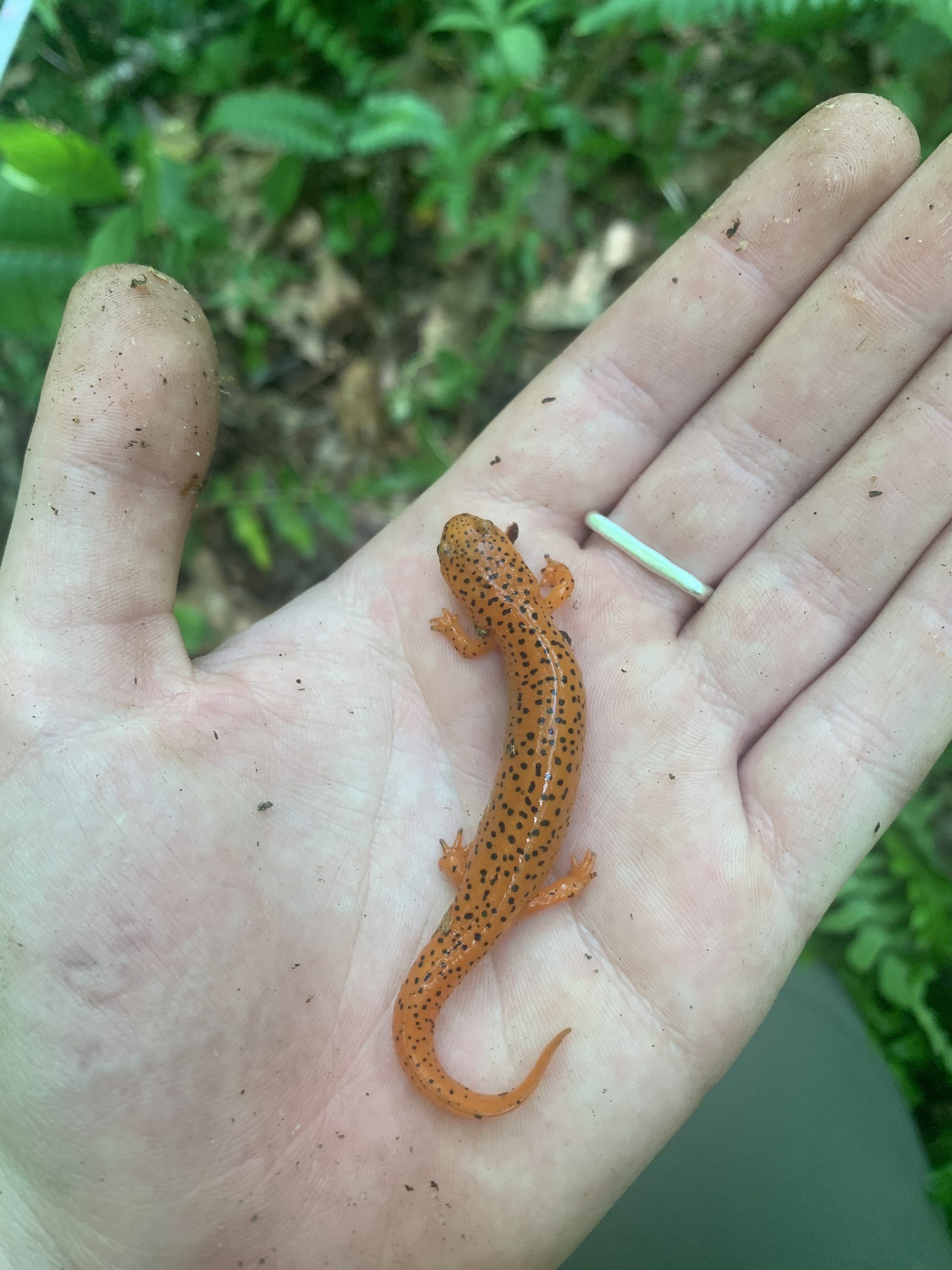 Some more wildlife that is hard to miss are the bugs. While being in the field there have been many bugs that I have encountered. I have also helped an AmeriCorps member on one of her projects by doing a "bug blitz." For the "bug blitz," we spent a couple hours searching a plot of the forest and tried to catch as many bugs as we could find to later ID them. After doing this multiple times, we can gauge the different bug populations in parts of the forest. This was a lot of fun, and I was able to see so many different spiders, leafhoppers, beetles, and flies that I didn't realize were so interesting till I was able to get a closer look.
To save the best for last, the group that has caught my attention the most has been the fungi! I always thought fungi were cool, but after coming to the Mon Forrest, the diversity of fungi has blown my mind. I have never seen so many different shapes, sizes, and colors of fungi before. Thanks to the help of an identification app called Seek, I have been able to learn many different names of the common fungi I encounter while out in the field. Some of the common ones I have found and been able to ID are pictured below. However, I am still learning and there are still so many more that have caught my attention, but I have not been able to identify yet, including the last picture of the bright red-orange mushroom.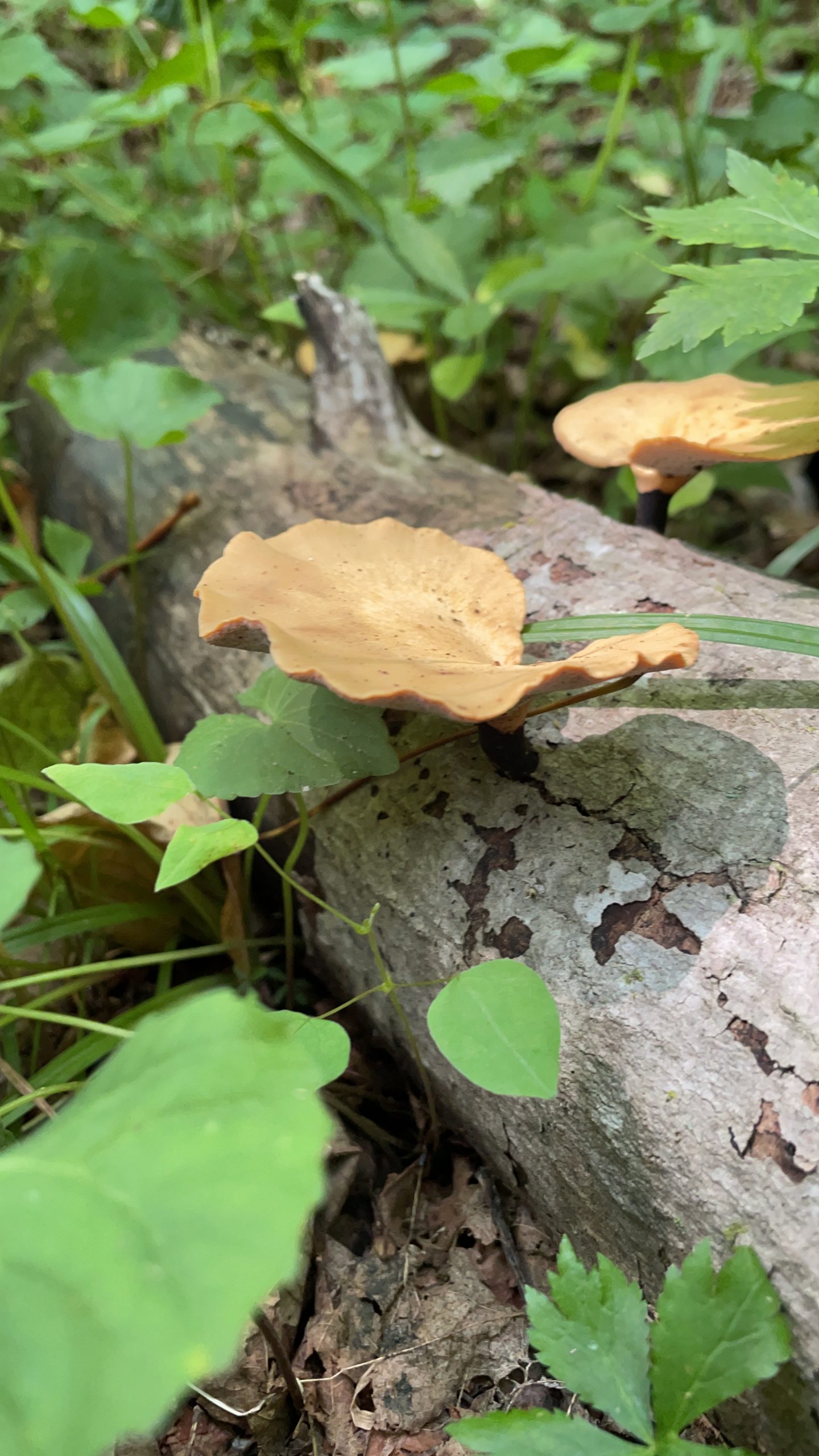 Overall, I have had an incredibly fun time seeing so much wildlife. Every day I work in the field I am excited to find more new species to add to my running list of things I have never seen before. I am extremely thankful to be working in the Monongahela National Forest, and I can't wait to see what other wildlife I will see in the upcoming months.