Hi! My name is Bridget Hennessy, and I'm a CLM intern working in Boulder City, Nevada! I moved here about three weeks ago, and have quickly adjusted to life here in Nevada. Being from Michigan, it has been quite the change of species, scenery, and weather. It's truly amazing to be surrounded by mountains! It's also truly odd to be experiencing warm weather in December!
I'm working on the Joshua Tree Genome Project, which is a USGS research project focused on how Joshua trees respond to climate change. So far I've been helping in the lab, greenhouse, and common gardens. In the lab, my co-intern, Maddy, and I care for germinating Joshua tree seeds – making sure they have water in their petri plate and aren't molding, and watching to see when they germinate. There are around 20-25 seeds per petri plate and, with all the moisture, it's easy for the seeds to mold. Thankfully they are being kept at the right temperature, so it is also easy for them to germinate! Once seeds have a nicely-sized radicle (or primary root) we plant them in the greenhouse into plant bands. These plant bands and crates were set up before we arrived, so our main job has just been planting more germinated seeds and watering the Joshua trees. We have learned to balance the moisture level between plants, since new transplants need to have more water than plants that have sprouted blades.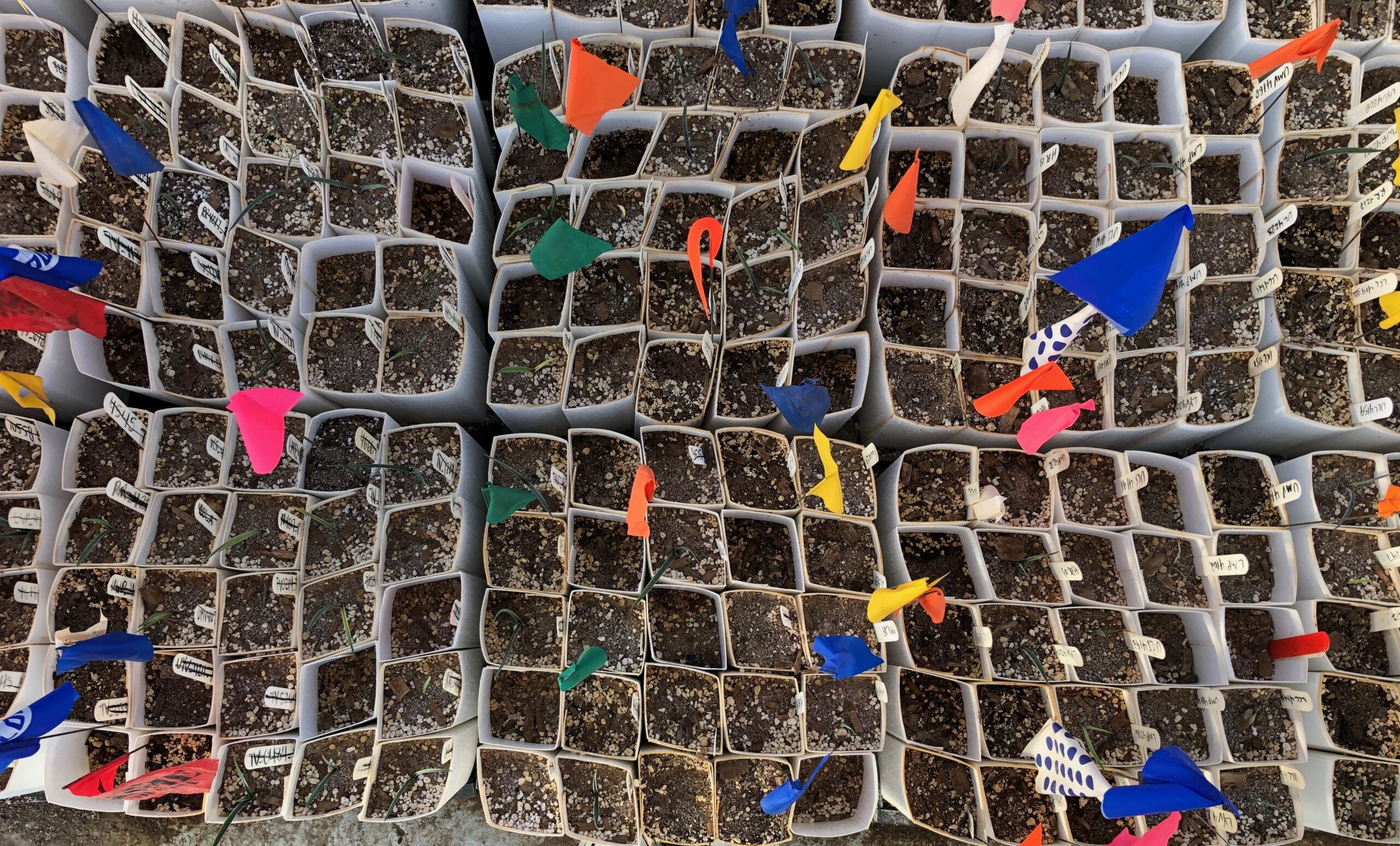 We've also been organizing and counting Joshua tree seeds that were previously collected into new batches for future planting. These seeds were collected from different trees in different areas, so they have different matrilines, different adaptations, and different abilities to survive in the common gardens. The three common gardens are set up in California, Utah, and Nevada, all so that the Joshua trees' survival can be tested in a variety of temperatures, soils, altitudes, and precipitation levels. We visited all three gardens over the past week and a half to assess the previously planted Joshua trees, and it was so interesting! We counted how many blades each plant had, checked whether there were signs of herbivory, and scored the overall health of the plant. Seeing the gardens in person definitely helped me recognize the differences between them – the Nevada garden had the most signs of herbivory, the California garden had super dry and sandy soil, and the Utah garden had very soft, moist soil. I'm very excited to assess them again and see if the plants grow more!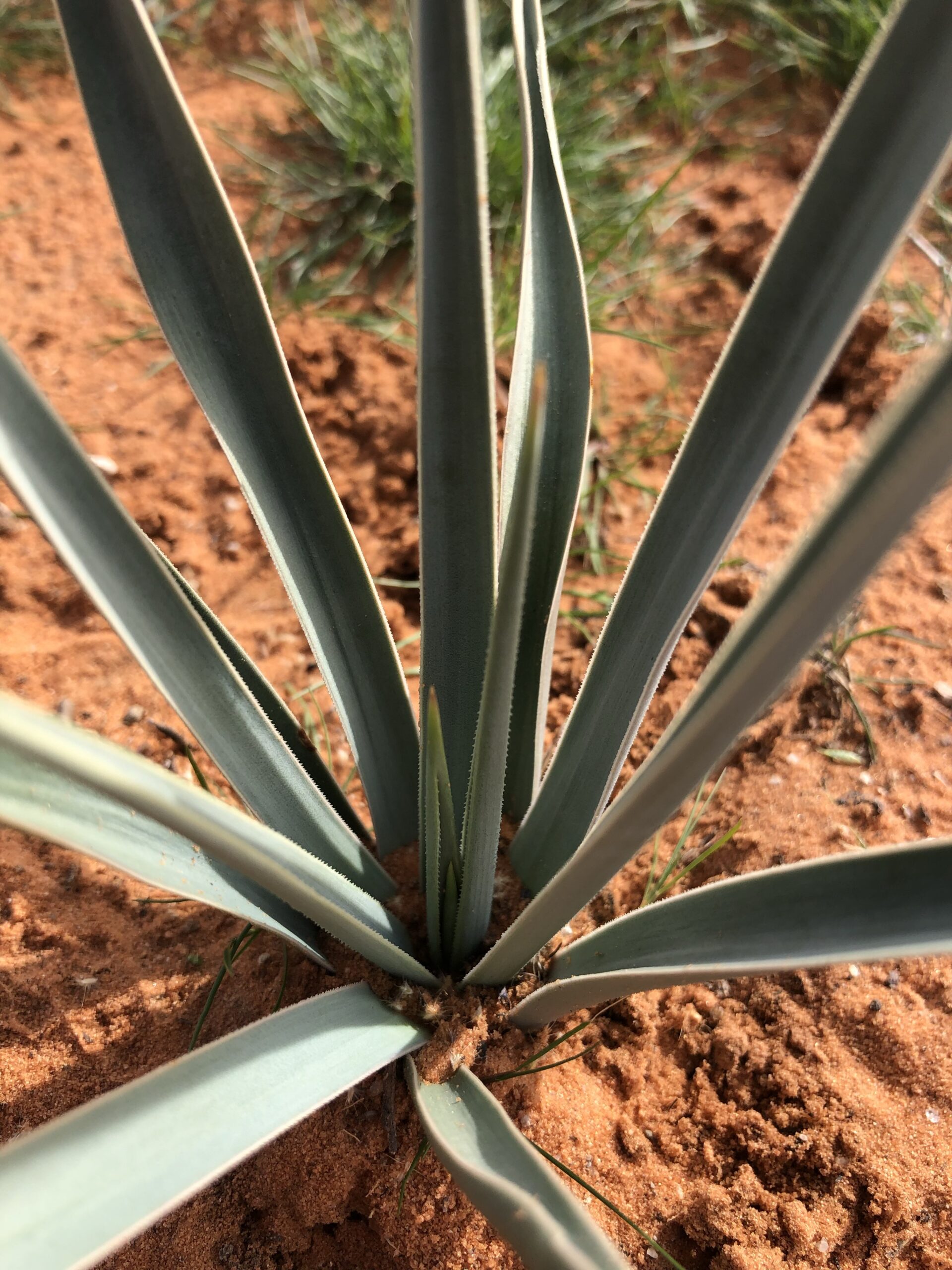 This week we've been setting up for planting the species Eriogonum fasciculatum into soil in the greenhouse. These plants were cuttings from larger plants in the Mojave, that were then placed in perlite and watered frequently. The cuttings have now grown roots and are ready to go in soil. We cleaned crates, set up plant bands, and added a soil mixture to each band. We have now moved on to the planting stage, and are working slowly and surely to make sure the delicate roots aren't damaged in the planting transition. It's cool to see the crates slowly start to fill up with plants!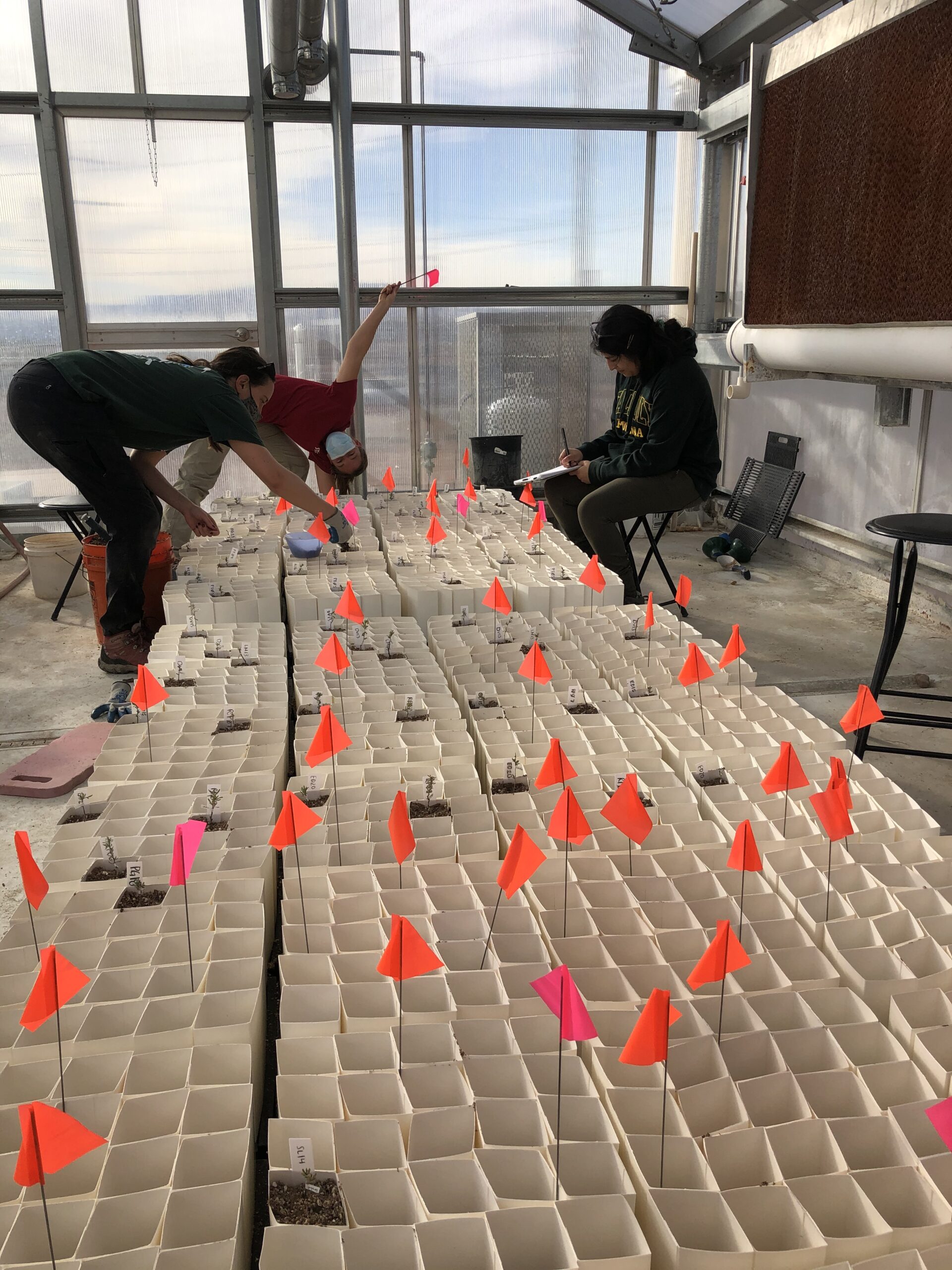 After work it's been great to hike and explore the Las Vegas area. Maddy and I have visited Red Rock Canyon and Arizona so far, and are planning to camp in Death Valley soon. The nature here is so different from what I've experienced, and I love being able to see new species and such rich geology. I can't wait for what else is to come!