There is a remarkable place behind the Monongahela Ranger Station in Marlinton, West Virginia. Beyond the parking lot, through Mountain View graveyard and around the forest road gate lie the remains of the old Marlin Mountain fruit farm, now regenerated into mixed oak-maple hardwood forest speckled with patches of rhododendron in the understory. From the standpoint of the common recreationist, this deciduous forest may appear altogether ordinary, if not dull. It is likely that the inconspicuous treasures of these woods will be missed by anyone who arrives ill-equipped for noticing the hidden. Finding the enchantments of this forest requires a keen eye, a sharp nose, and an openness to impulsive excursions off trail. A seeker must be willing to break through spider webs, crawl over windsnap, kneel frequently in the mud, and earnestly enjoy the rain. If you're like me and are prone to wandering, and you have plans to go on a casual trail run through this forest, be warned: your plans have been thwarted.
Although it was early golden hour in the open expanse of the graveyard, the gilded, green vegetation diminished as soon as I passed under the first arch of trees on the forest road. In the dim light, trunks and leaf litter fused into homogenous gray walls hemming the dirt road, which itself was barely bright enough to continue. I pressed on at a cautious pace, scanning the road for ankle-rolling rocks while keeping my peripheral awareness open. Fifty paces into the jog, I was stopped in my tracks. Two tiny orange sentinels stood in my path.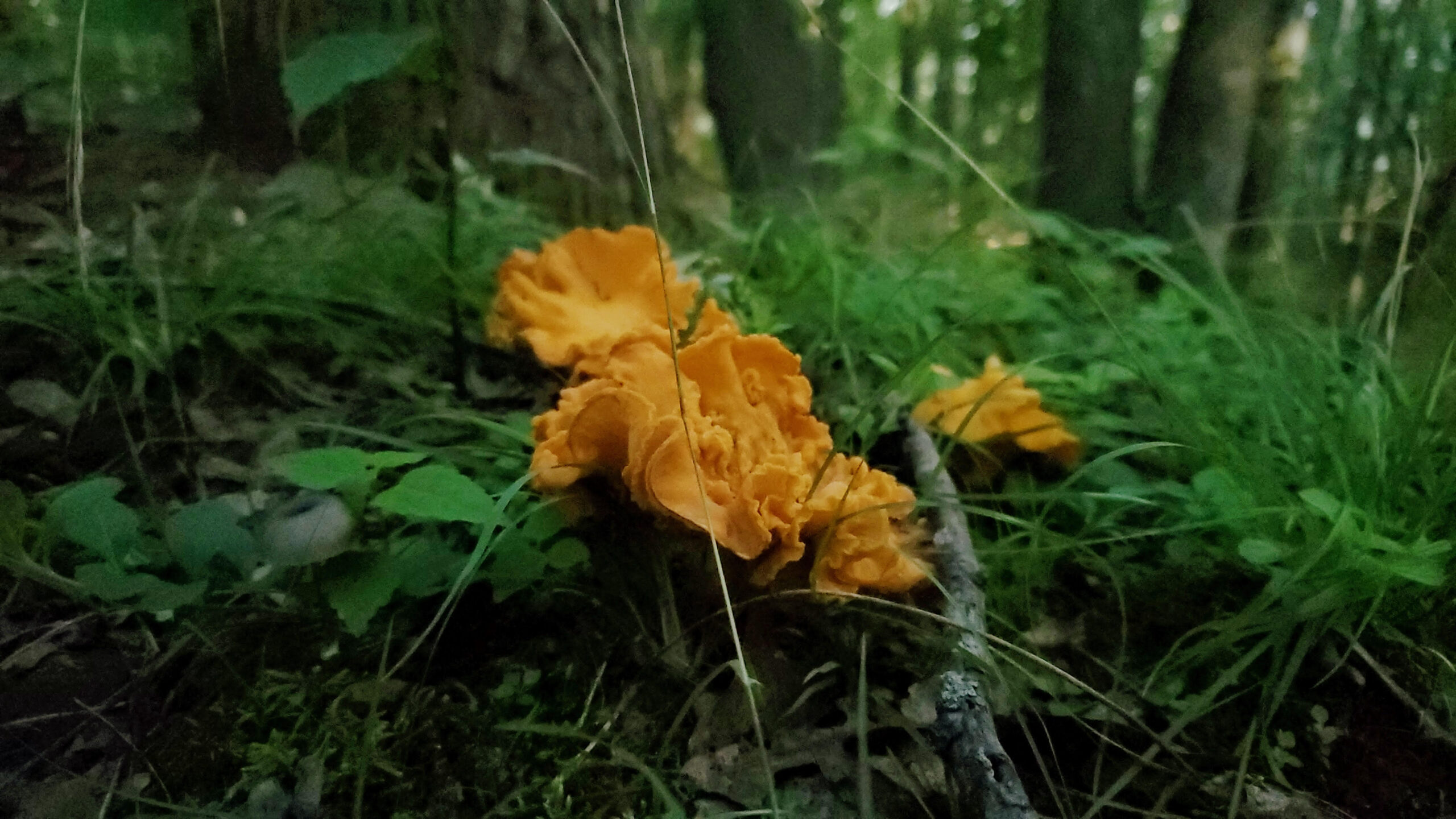 Chantarelles! Beyond the first two mushrooms was a whole line of them dappling the road, glowing orange against the muted gray backdrop of leaves and soil. I had come across chantarelles only once before, though as an amateur mycologist I have had an eye out for them for many years. I felt as though a huge welcoming gift had been bestowed on me by the forest. Chantarelles are some of the most popular edible wild mushrooms, and are sought after worldwide. Unable to contain my excitement, I spread my arms open toward the canopy and let out a beaming "Whoop!" of unbridled gratitude. Although these little chantarelles were far too small to pick that evening, I made a mental note to return in a few days. It was clear that this road had not been used for some time, and I felt safe to assume that no human would come pick them before I returned.
I continued on my run, but only after a few moments with my belly to the soil and my nose pressed against the little orange mushrooms, inhaling that signature fruity fragrance. As soon as I started to run, I was dodging another patch of tiny chantarelles mixed into a rainbow of mushroom hues: seafoam green Russula variata, scarlet Russula emetica, bright white Destroying Angel, brown and yellow boletes. I had to run on my tiptoes to keep from smooshing them. Only a hundred paces later, I was stopped once more. To my left, a prominent pearly shape stood out from behind an oak against the ever-darkening wall of gray woods. I had to investigate! Jumping off the road and sliding down the embankment, I swung around the tree to have look. An enormous, bright white mushroom with a cap the size of a Frisbee shone up at me. I brimmed with awe at its size and measured its diameter with my hands: ten inches across. Wow! The largest gilled mushroom I've ever seen, second only to Berkeley's Polypore, an edible polypore which can grow to be more than three feet wide. While beautiful, my newfound Green-Spored Parasol (Lepiota molybdites) is not edible. In fact, it is responsible for the greatest number of mushrooms poisonings in the Appalachian Mountains. I would be admiring this mushroom, but certainly not eating it.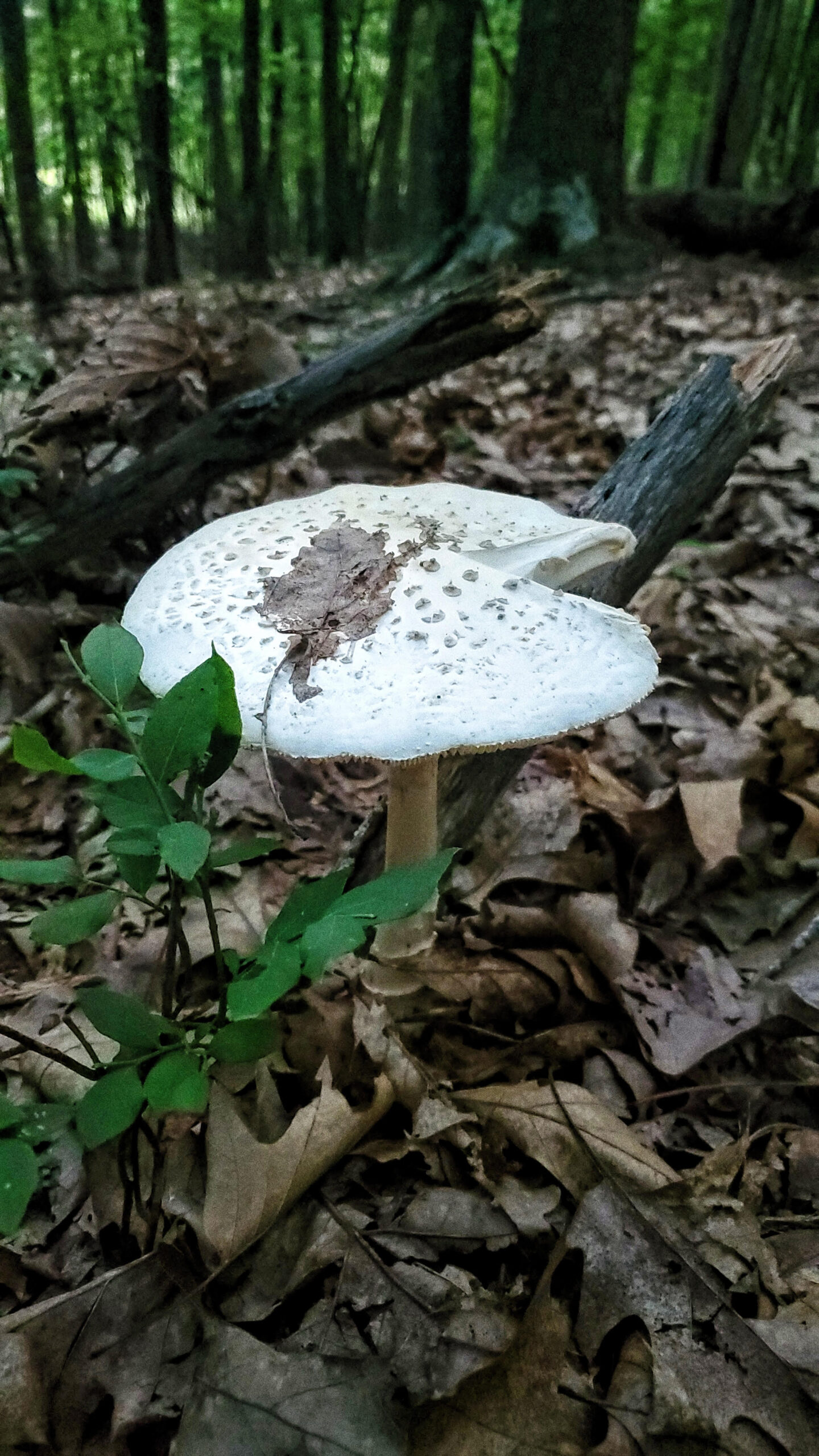 A heavy mist set in, and it began to rain. I hopped back on the road and continued on up the ridge, being stopped every few yards by a new fungal form. Fat boletes, itsy Hydrocybes and convex Lactarius peckii lining the road caught my eye and beckoned me to stop and notice. I was walking and squatting far more often than jogging. My run was not turning out as planned, but it didn't matter. I felt as though the forest was revealing itself on another level, and I didn't want to miss it.
Just as I was getting back to a more normal running pace, I glimpsed a patch of humungous, bright orange, smooth chanterelles lining the road along a rhododendron patch. I chuckled at the pure gratitude I felt at the two thumbnail-size chantarelles I saw only thirty minutes before. These were most definitely ripe for the picking. I was nowhere near finished with my run, so I marked the spot on the trail with sticks for my way back. I continued to mark the trail for the rest of the chanterelle patches (and black trumpets too!) which kept getting larger and more plentiful as I climbed higher in elevation. It was evident that the chantarelles were ripening on an elevation gradient, beginning high in the mountains and continuing downslope with the progression of late summer. A week after my first run-in with the tiny chantarelles at the beginning of this story, they were the size of my palm, and the ones at the top of the ridge had long ago decomposed.
On my return journey, I picked half of the largest chantarelles, leaving many mushrooms of different life stages to carry on reproduction. Even so, I had a shirt-full of mushrooms by the time I reached the gate. My arm was tired from the load, and I frequently had to switch from one hand to the other as I jogged back home.
It was dark by the time I got to the house. Warm light streamed from the windows, and someone was playing jazz. I kicked off my soaked shoes before I walked into the kitchen to greet my new friends, bounty in-hand.