Gale arrived this week — a strong wind with speeds below a storm but above breeze — 39 to 54 mph. Ketchikan pulls on a blanket of fog, now a sleepy town with longer nights and greying days of mist and fog and rain. When the sun does come out, the sky is a cold blue — the air piercing, but the sunlight warm and welcoming.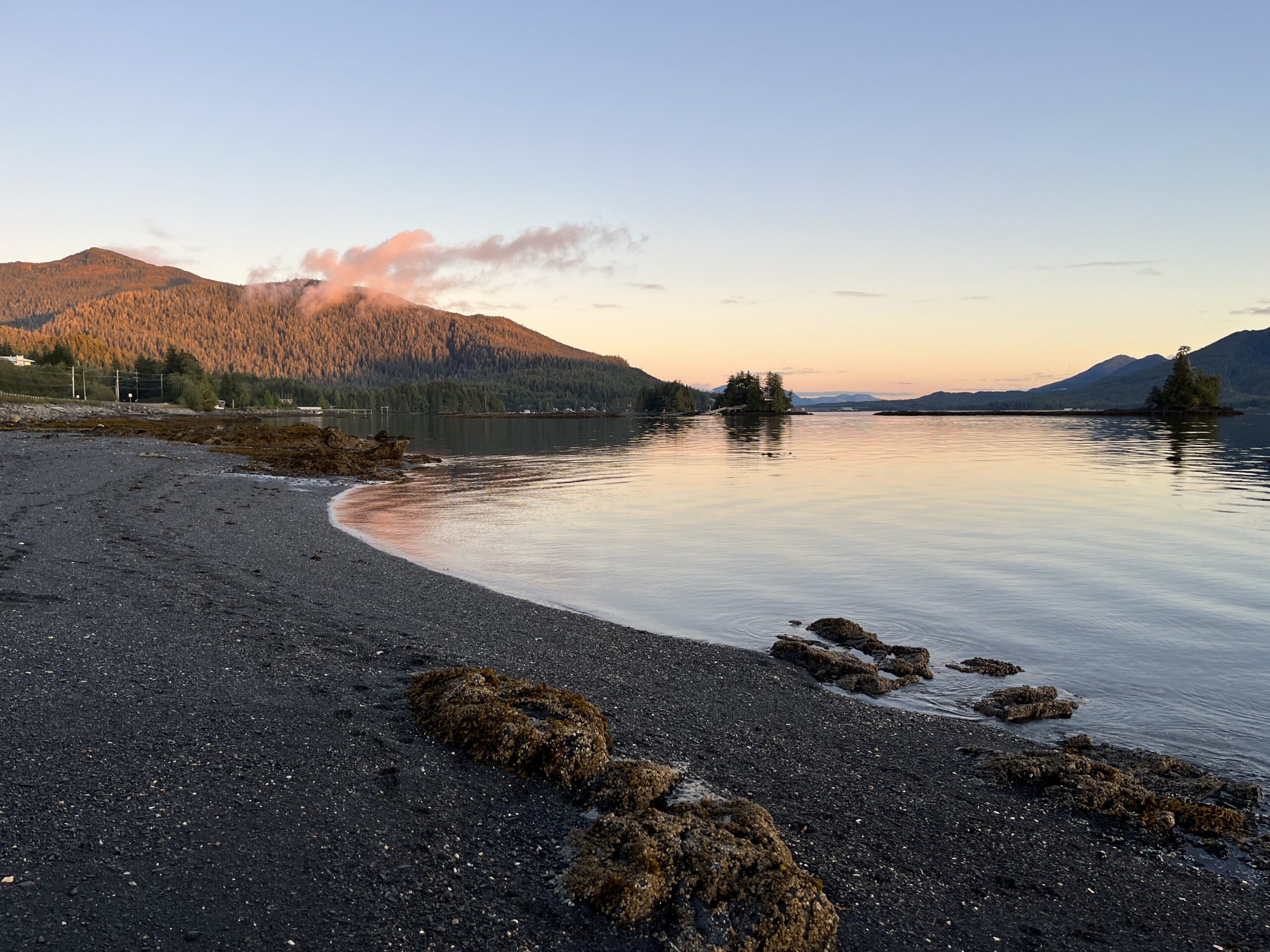 The rainforest is wet and dark, and speckled with fall colors. Devil's Club exchange their bright green leaves for orange-tipped umbrellas and Salmonberry branches, once dripping with yellow-orange-red berries are almost bare.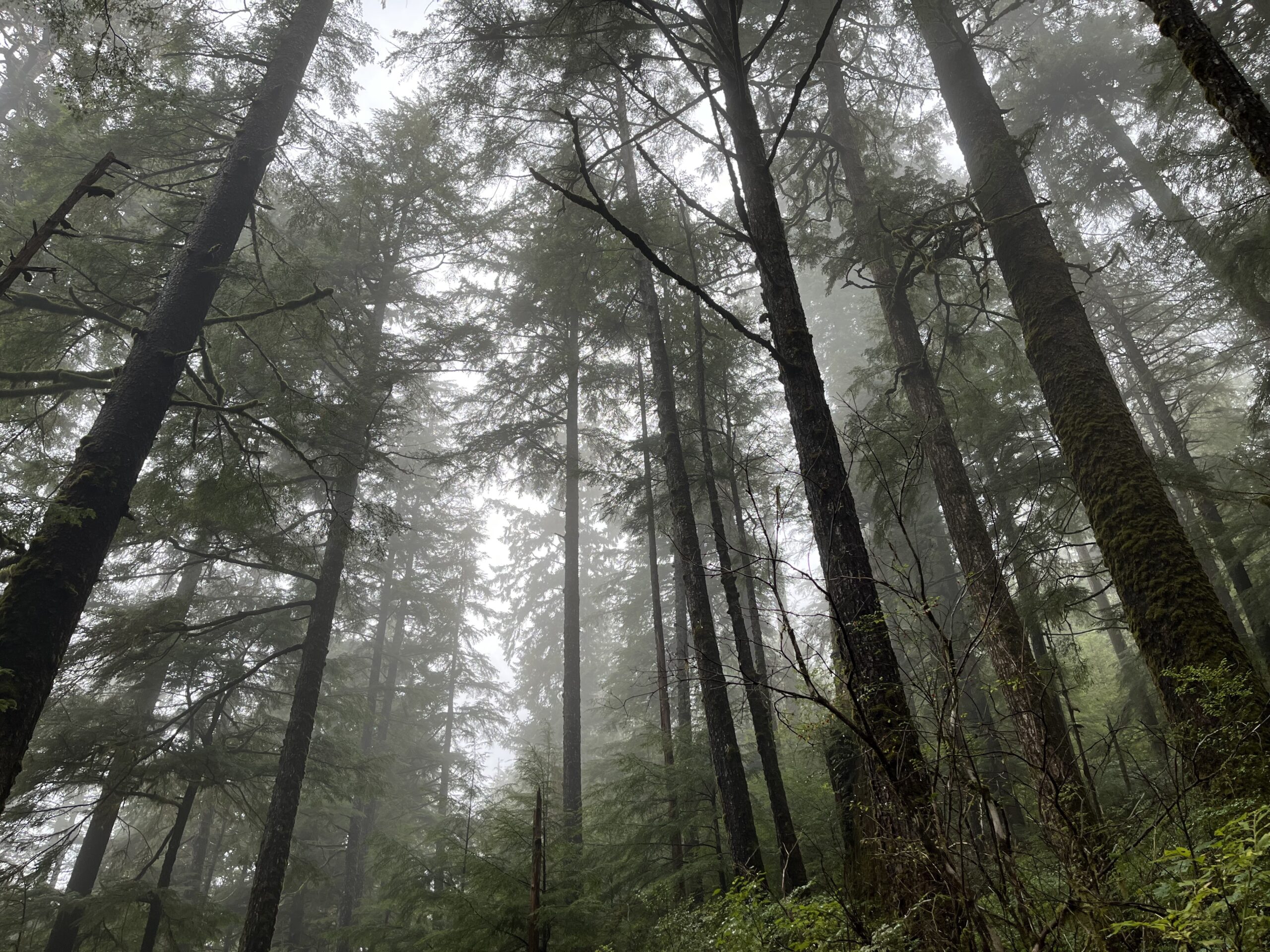 Field work is drawing to a close along with summer. But Mather and I recently spent a day out in the field with the Recreation Crew, repairing and reconstructing a bridge on a local trail. We hoisted heavy packs onto our backs and hiked to the bridge site. We used pry bars, sawszalls and hammers to remove the old, decaying planks, and replaced them with new, treated ones.
We hiked in 30 wooden planks on our backs. I fell through 1 — slipped straight through the boards and to the ground. The two crew leads pulled me up out of the bridge, all of us, laughing and laughing.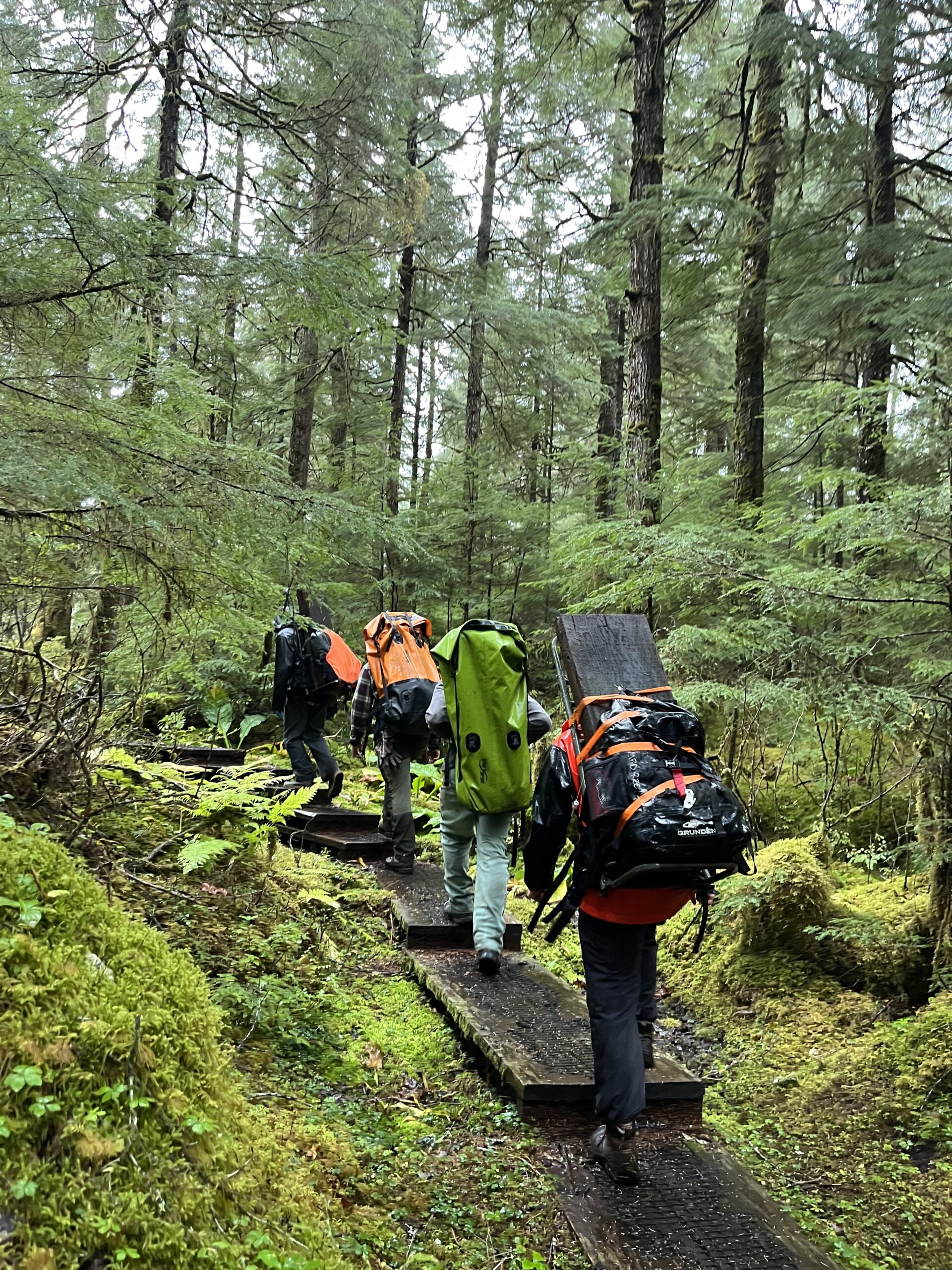 Another field day this month drew multiple departments together, completing surveys for potential cabin building sites. We walked several different sites, taking plant inventories, with an eye out for rare plant species. The wildlife biologist looked for eagle nests and rare birds, and considered the possible impacts to salmon, bears, wolves, and deer in the area. The landscape architect took note of the soil and depth and thought about accessibility to and from the site. The recreation management specialist addressed the water table and the amount of flat ground available to them for building the cabin, while the forester assessed the stands of trees and the timber demand. The whole day teemed with friendly debates and conversation.
Just before we all left, we walked through a marshland that brimmed with sprawled, decaying bodies of salmon, out to the inlet. Where the ocean flooded in, a flock of short-billed gulls lifted in one swift group up and off the water, calling and calling.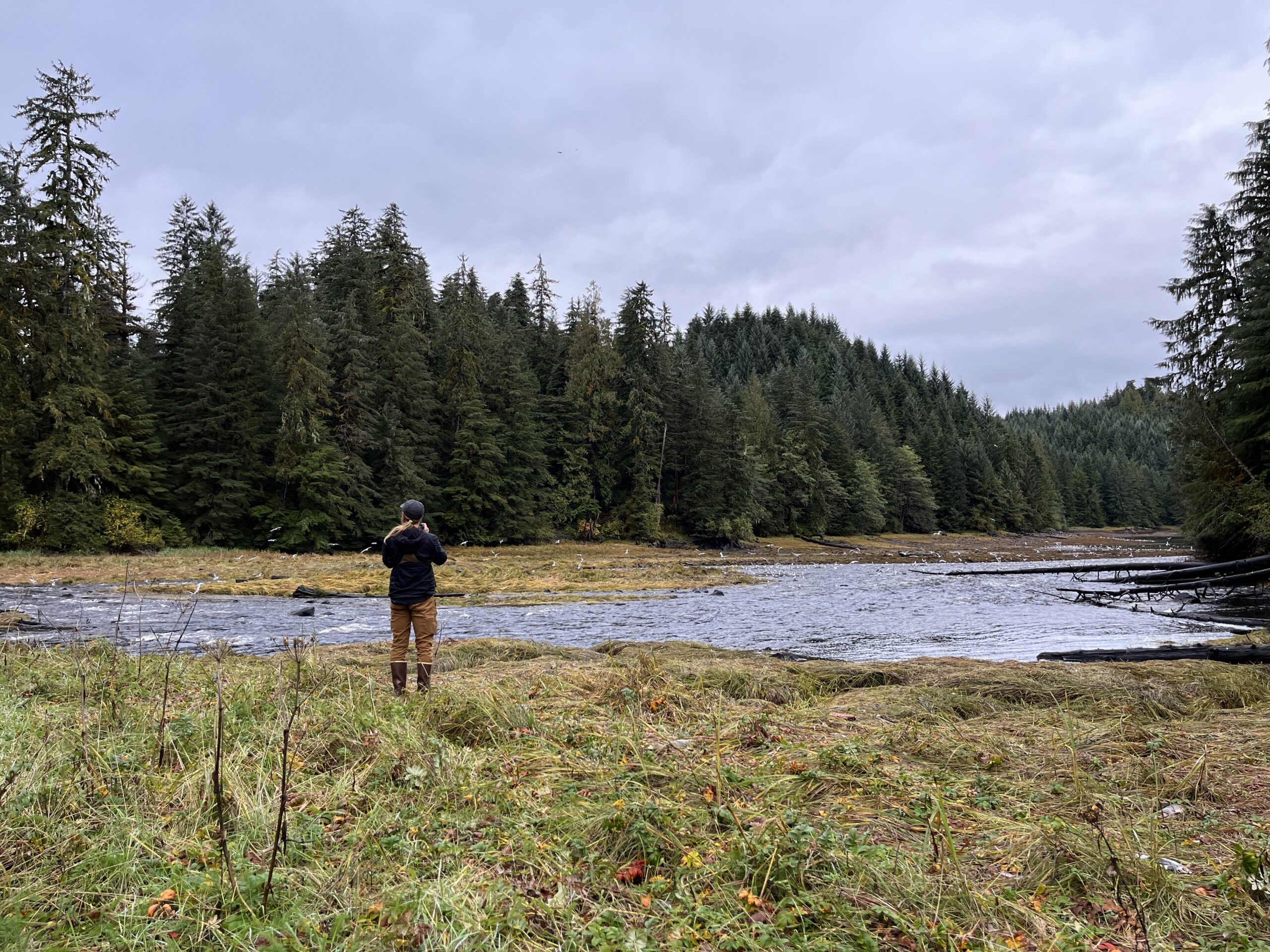 Complimenting the new wintry chill in the air, the forest harbors another touch of fall these days. The color red. The huckleberries.
Vaccinium parviflorum (Red Huckleberry) carpets the forest floor, but few are still holding onto their berries. To finish out what will likely be our final collection, we ventured off trail, and up in trees to discover the ripest huckleberry patches. Many were tall and required us to gently bow the stems toward us to pluck their berries. Stellar's Jays flitted around my head as I reached up to collect the small, blushing berries.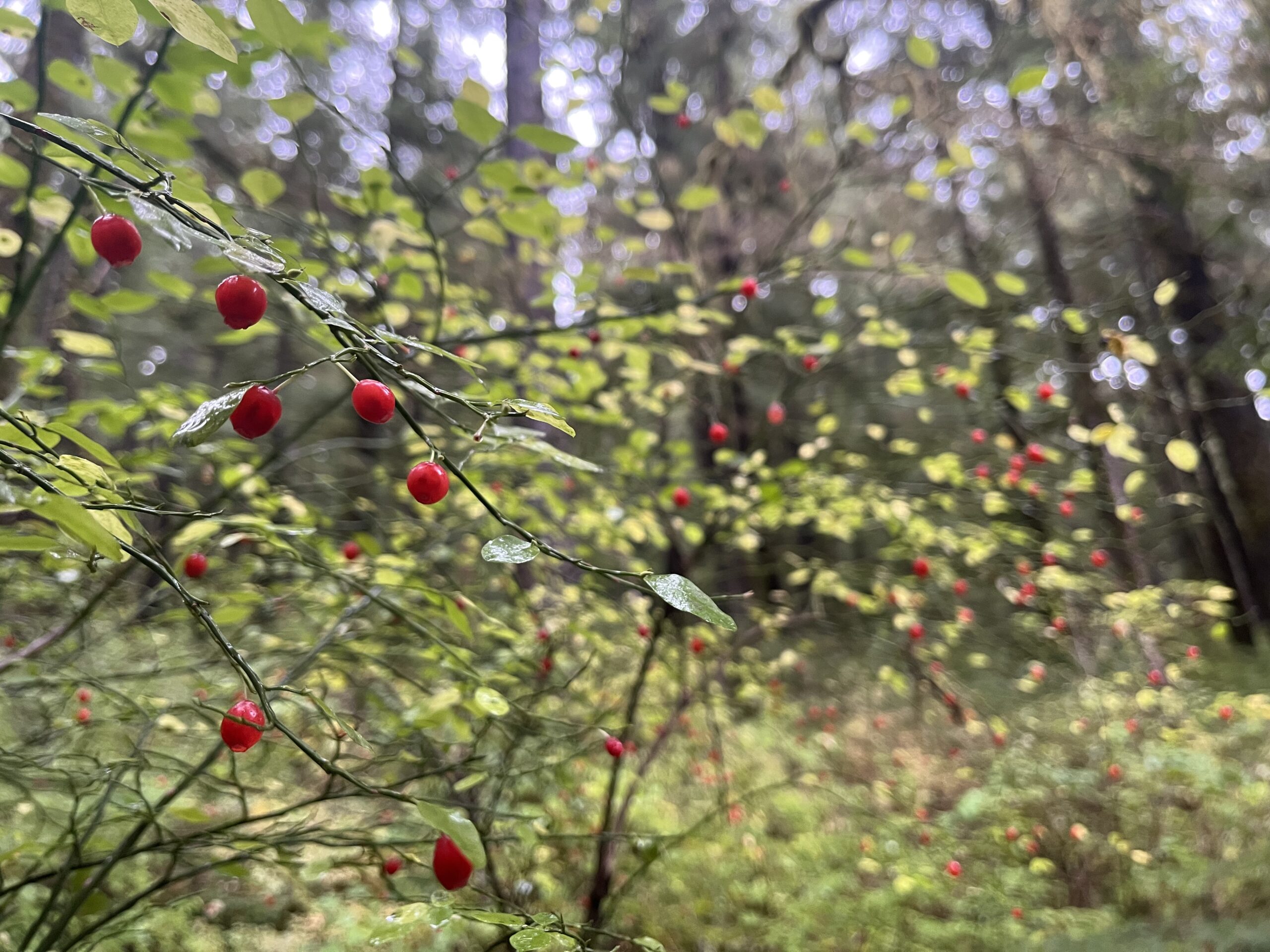 Seed collection is not the only thing coming to a close. This is my field partner's final week.
Mather, I want to thank you for the following:
Confirming my estimations were often wrong
Doing math and counting seeds with impressive concentration
Delighting in the smell of decaying salmon while collecting seeds 🙂
Making me laugh
Being a truly excellent field partner, hiking pal, and friend