Early in the morning with the moon still overhead, I stepped out into the cold and slid shut the door of my apartment. It was too dark to see, so I felt each of the keys on my keychain before finding the right one to lock up. Then, I turned around and stopped to look for a moment. The sky was full of stars.
When I started at Ottawa National Forest in early June, the morning sky was blue and dappled with clouds when I left for work, in July I woke to spectacular red sunrises, in August the mornings were dim with the first hints of light illuminating dense grey mist, and, now, I am greeted by stars. I have never watched the seasons change like this before.
Over the past month, my-cointern Tessa and I have continued to travel the forest mapping and treating invasive plants. We've tackled tansy ragwort, honeysuckle, Japanese barberry, glossy buckthorn, Eurasian watermilfoil and more. Sometimes, we hike all day to visit a few small, remote sites, and sometimes we work right along the roadside treating large patches of weeds where invasive species cerews have made gradual progress year after year.
On a bright Tuesday, Tessa and I headed out to a particularly dense cluster of invasive species infestations lining Trout Creek. Waders on, we trudged through marsh up to our knees. Growing among the reeds were numerous glossy buckthorn seedlings with shining oval leaves that glinted in the sun. The soil was soft, so we could often pull the invasive seedling up by the roots. As we walked, Tessa and I passed ideas back and forth. These seedlings must be coming from somewhere, we surmised, some larger buckthorn that could produce numerous fruits… the mother tree. We decided we would find it if we could.
Time wore on, yet our efforts to find the mother tree proved fruitless. We waded back and forth through the infestation area and eventually moved on to some invasive honeysuckle sites further along the marsh.
When we passed through the buckthorn site again, the afternoon was drawing to a close. Making our way back to the truck to head home, we stumbled into a pocket of glossy buckthorn we had missed. Instead of being knee-high seedlings, the buckthorn here was up to our heads. Most of the buckthorn we've treated this summer has been no taller than eye-level. We did see one that was fifteen feet once, though. Even though the trunk was only four inches in diameter, cutting through it with a pocket saw felt like felling a real tree.
With so many plants to treat, Tessa and I decided we would have to come back to the site another day to finish up. As Tessa bent low, sawing through one last buckthorn, I noticed that the normally green, glossy leaves of the plant had begun turning a deep red from the autumn chill. Looking over her shoulder I got a glimpse of a tree colored that same red. Could it be another buckthorn? I looked more closely, following the tree up… and up… and up. Towering over the rest was a great buckthorn, with a trunk a foot in diameter and a crown thirty feet tall. "Tessa… Tessa," I said slowly, "We found the mother tree."  
I snapped a photo of the great tree with Tessa standing next to it for scale. Then, we headed back to the office, excited to tell our mentor, Ian, what we found. Before the season is over, we'll head back to the site to finish treating the remaining buckthorn, including the towering mother tree.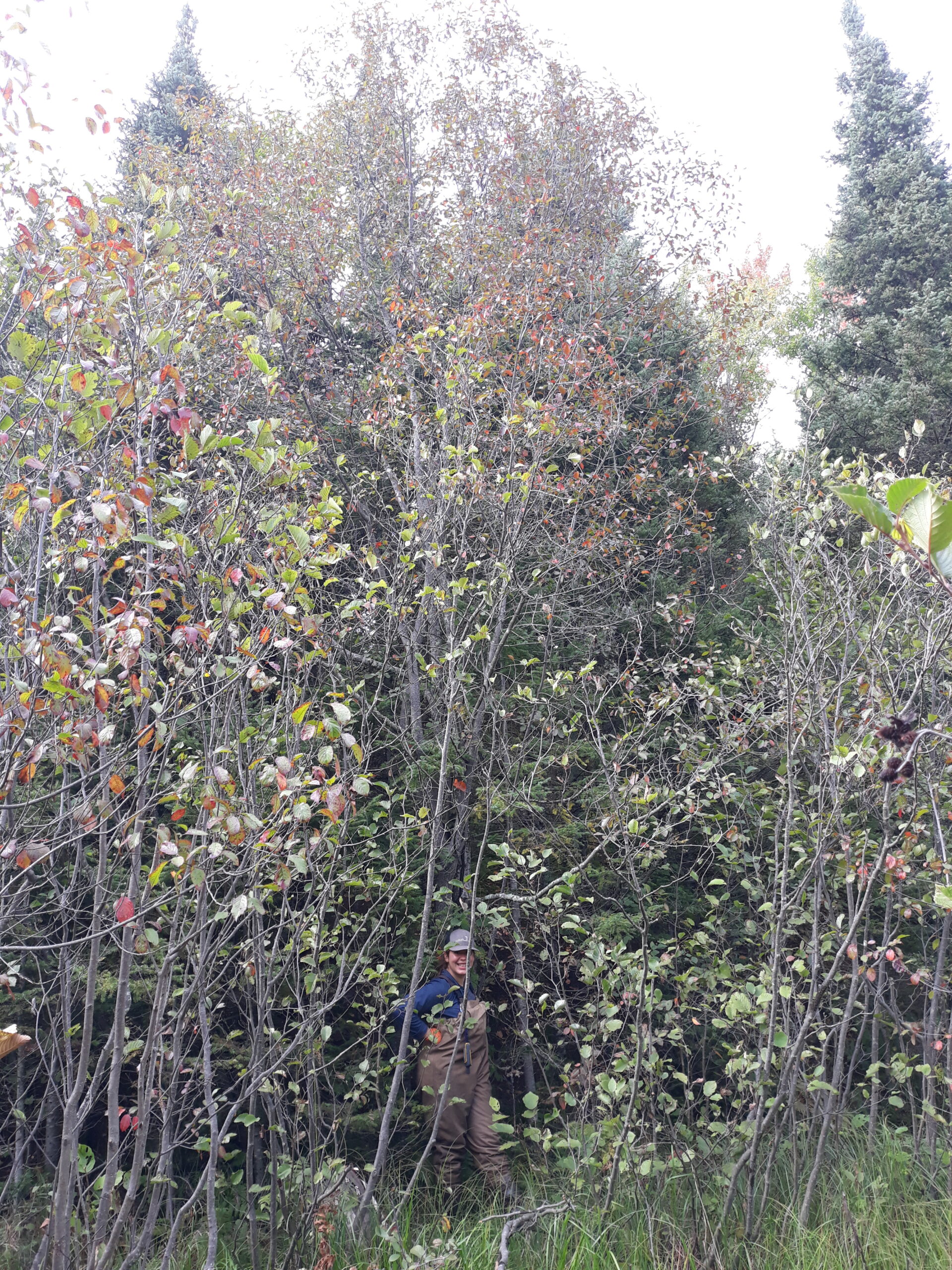 While the search for buckthorn along Trout Creek required wading through waist-deep water, some weed work requires us to get fully submerged. That's why on a crisp Monday morning, I helped load wetsuits into the truck along with paddles, life jackets, and flippers. Then, Tessa, Ian, a Forest Service botanist named Katherine, and I headed out to Lac Vieux Desert lake for our last snorkel day of the year.
Our job was to find and pull Eusrasian watermilfoil, a highly invasive aquatic plant. Eurasian watermilfoil has a doppelganger though, native, northern watermil foil has fewer leaflets than the invasive cousin it grows side by side with, but if I hadn't been told to look for the difference the first time we went snorkeling, I never would have guessed they were two separate species.
We spent the day searching through the water. When we found an invasive plant, we would gather the long flowing stems into balls and follow them down to the lake bottom. When you apply just the right pressure there, the plant pulls up in one continuous clump without the stems snapping and producing fragments. A milfoil fragment two inches long can go on to root into a whole new plant.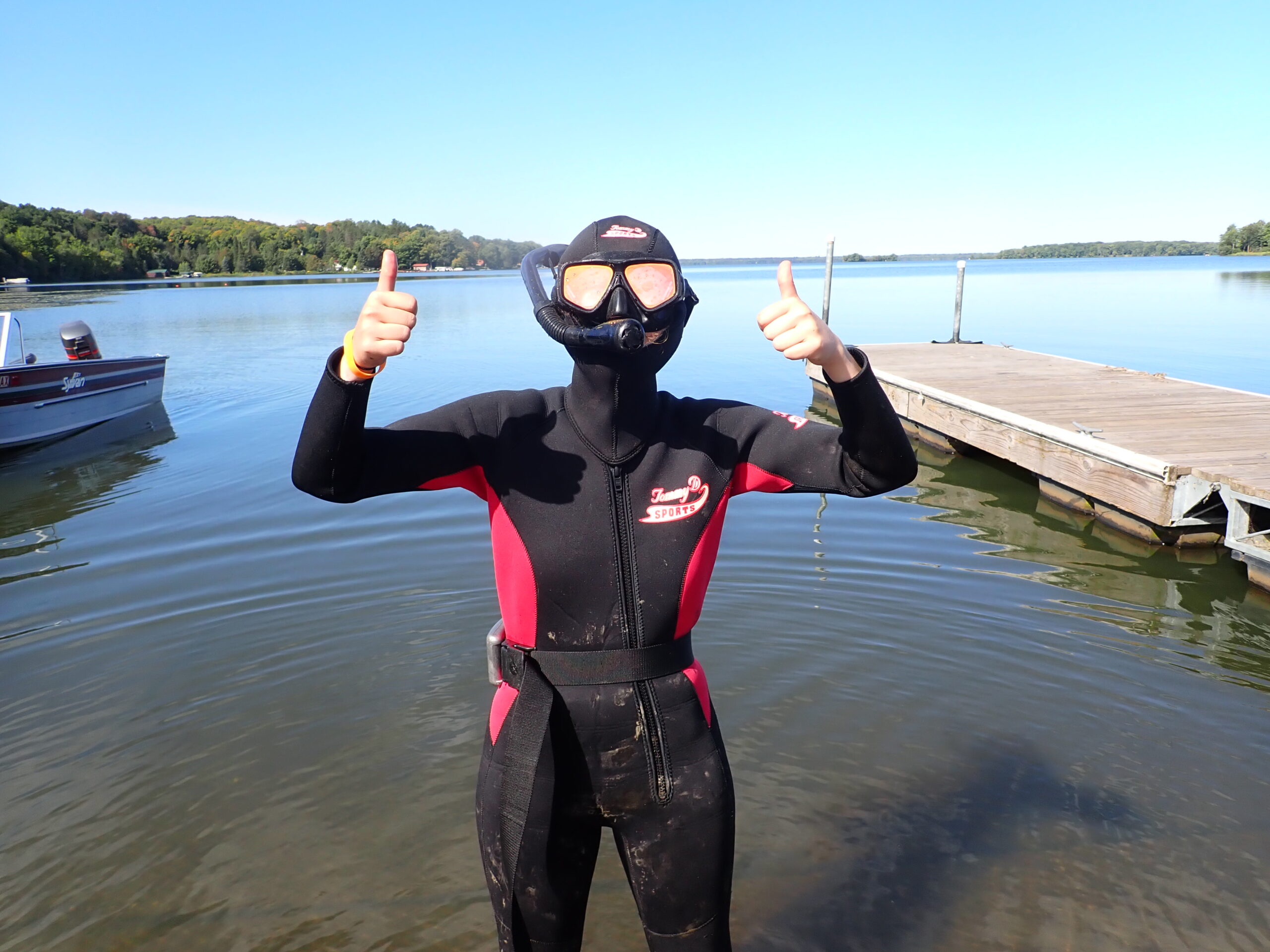 The water was chilly, but we checked in with each other often and took turns paddling the canoe when we got cold. Spirits stayed high. As we swam along the shore, swapped stories on the boat, and admired some sizable snails, the buckets of Eurasion watermilfoil we had pulled piled up on the shore.
On our first day of snorkling for watermilfoil in the early summer, I had to count the pairs of leaflets of every milfoil I encountered to make sure it was the invasive species. Diving on Monday, though, I was surprised to find I could distinguish northern from Eurasian with relative ease. Everything from the way the plants moved in the water to the feel of the leaves in my hand set the two apart.
Realizing this, made me stop and think about how much I've learned this summer. Under Ian's mentorship, I've been given an invitation to pay deep attention to the natural world and the knowledge to notice things I never would have seen on my own. Now, after months of spending long days in the forest, I'm beginning to see that attention pay off as I recognize the plants around me and see how they change and grow. I'm sure in June I would have walked right by the mother buckthorn and never stopped to look up. Still, I know I'm just scratching the surface. An opportunity to work with the Ottawa's Timber crew showed me a glimpse of how much more is out there to notice.
All summer, we've been meeting different people on the Ottawa, developing diverse skills, and getting a glimpse at the different jobs various forest departments take on. To this end, on Wednesday we met with Amanda and Megan from the Timber Crew. They gave us insight into all the different tasks needed for managing commercial timber from outlining the boundary of sale areas, to marking trees along future roads, to protecting valuable areas like wetlands and historical sites. Soon enough, Tessa and I were each outfitted with a paint sprayer on our backs heading through the woods to help lay out the boundary of a timber sale area.
We followed Amanda and Megan through the woods, marking the stumps of trees they selected with bright orange paint. These trees, they explained, would become the outline of a sale area, showing the purchaser where they could go and where they should avoid.
I quickly learned that laying out the line is not as straightforward as it seems. Skilled timber markers weigh a wealth of different factors as they set the boundary.  As they worked, Megan and Amanda took care to mark trees close enough together that you could easily follow from one to the next. They kept the line smooth, without too many jagged turns, and always ensured that the areas they marked were wide and flat enough for logging vehicles to navigate and turn around. All the while, they made sure to draw lines that avoided fragile wetlands and left a large enough buffer of trees around sensitive areas to provide shade and prevent erosion. Thinking of visitors, they were also careful to leave a good barrier of trees around a popular recreation lake. As we walked, Amanda and Megan sometimes saw great gnarled trees with knots and kankers and bits of shaggy bark. These they also left out of the sale area when they could. They are of little value for timber, they explained, but provide great habitat for all manner of wildlife. As we traveled, Amanda and Megan were teaching us every step of the way, explaining their thought process and talking us through decisions. 
My favorite thing was watching the pair read the land. They paid careful attention to the plants, canopy, and soil as they decided where to paint the line. Blue cohosh, they explained, a knee-high herb with blue fruits and pointed leaves often indicates good timber trees are nearby; black ash, tall with symmetrical pairs of leaflets, on the other hand, is a wetland species that suggests the surrounding area should probably be left out of the timber sale. They chose each tree we marked with careful consideration, taking time to study the landscape. I'm still not sure of my path after CLM, but, after spending the day with Amanda and Megan, I sincerely hope that I can bring the same level of care and stewardship to my job that they do everyday. 
In my first blog post, I explained that I wanted to know all the plants in Ottawa National Forest. What I meant, though I did not say it explicitly, is that I wanted to know the names of all the plants in Ottawa National Forest. Over the last several months, I've learned that knowing a plant involves so much more than just knowing its name. It's a never ending process of seeing how it changes with the seasons, observing its growth and habitat, and understanding its interaction with the world it makes its home. Realizing this makes me hopeful I can meet my goal. I don't have to memorize long lists of names. I just have to focus my attention on the world around me, be curious, and take notice.